&ltbr>
The AM DXers Webring is a FINDLINK member.

PAGES LAST UPDATED: April 12, 1999

Submit your page to
34 popular sites for free, using one form!

AM DXers Webring is
a Matilda member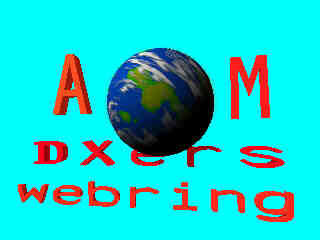 Graphics created with Pov-Ray 3D, Micrografix, Animagic and IPlusPhoto

This webring is primarily for any AM DX enthusiast (updated 4/6/99).
This page designed by SJM
UPDATED 4/12/99
Check out recent DX CONDITIONS in Duluth, MN area.
This page will be updated as frequently as possible
It is my intention to have a weekly update on here
The above sections are under construction and updated frequently

---
Any interests in FM, TV, SW, HAM, and PIRATE radio also!


If any problems occur with the webring, let me know right away!
I will attempt to fix any problems immediately!
NO BANNER FLYING REQUIRED
IMMEDIATELY AFTER SUBMITTING YOUR SITE...
You will be emailed two table codes to choose from.
Please place one of our tables on your index page.
I will be notified when your site has been submitted.
If I find one of our two tables on your page and I approve of the material
you have presented on your webpage, I will add your site to the activemembers of the ring.

YOUR SITE WILL NOT BE ENTERED INTO THE RING IF ONE OF THE TWO TABLES IS NOT PRESENT!I will notify you if your site does not comply.
If your site is not submitted within a week and the table is on your index page, please email me immediately!
BELOW ARE YOUR TABLE CHOICES!

We'd like you to use our table with graphics

BUT, if you'd rather keep graphics down to a limit on your page, that's okay.
Skip the table
As long as you add a non table version of links to
The AM DXers WEBRING
homepage
After submitting your page you'll be sent an email from the ring
with two html codes listed.

Following first is our table complete with graphics.


BELOW is what our "NO TABLE" code with links only looks like on your page.


This --ringtitle--
site owned by --name--.
[ Previous 5 Sites |Previous|Next |Next 5 Sites|Random Site| List Sites ]


This is an example, the text code for both table and non table versions for yourchoosing will be sent to you upon your site submission.


Add either one you to your main index bottom.
We will observe your page to be sure one of the two is listed, and we will
enter you in the ring.
We will not accept any pages with offensive material! (Too bad!)
Of course we will periodically check back, and let you know if there
have been any problems with the ring or your url, etc.
Be sure the html code for one of our two tables is on your index page!
Thanks! Enjoy!
SUBMIT your site here


and PLEASE follow our instructions.
BE SURE to type your email and url's correctly!